The Gemini Carver is an excellent tool for the professional luthier. It is a solid unit that accurately duplicates faceplates, backplates, and scroll work. Violin, viola, cello and other fine stringed instrument makers can benefit from the increase in overall production, not to mention the reduction in rough carving labor. Using the Gemini to rough-cut your instrument pieces will leave you more time to apply your hand to fine detail work on the instruments you build.

The Gemini Carving Duplicator is easy to use. The duplicating arms are perfectly balanced, giving the luthier ultra-fine control of the cutter.

Unlike other duplicators (which can be flimsy) this tool incorporates a very rigid structure, resulting in the cutter precisely following the 3D pattern of the original piece. In addition, the Gemini has a unique brake mechanism which stabilizes the cutting action in two dimensions.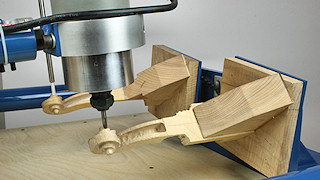 Carve Necks with Optional Rotary Carving Fixture