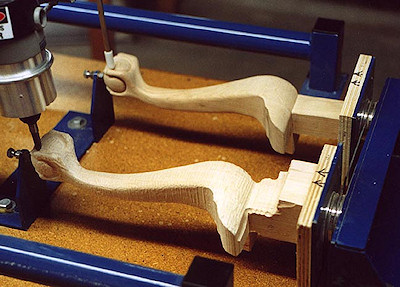 As you can see from the picture, the Gemini is an indispensible tool for the furniture and cabinet maker. It allows for accurate restoration or distinctive reproductions in any wood. Broken pieces can be patched with any of a variety of materials, then reproduced into the craftsman's wood of choice for fine, accurate repair work or reproduction work.

Imagine how many tools in your workshop this one unit replaces! Think of the expanded work your shop can take in once you have this tool and how much faster you can complete the work -- at a higher quality of craftsmanship.

The Gemini can be used to create moulding crowns, drawer fronts, mantle wraps, side crowns, bracket legs, cabriole legs, ball and claw feet, finials, and chair wings. It is an excellent tool to create Victorian reproductions or repair existing furniture.